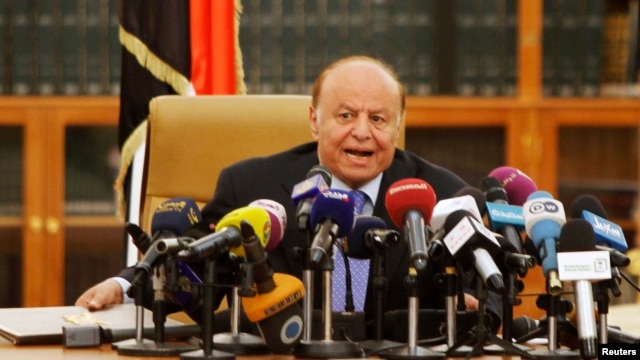 FILE - Yemen's President Abd-Rabbu Mansour Hadi speaks as he holds an agreement (L) signed between the government and Houthi rebels, in Sanaa, Sept. 21, 2014.
Yemen's ruling political party has removed Yemeni President Abed Rabbo Mansour Hadi from the party's top ranks, weakening his authority at a time the country is in political turmoil.
The General People's Congress is split between supporters of Hadi and the country's former president, Ali Abdullah Saleh.
The party did not explain why it removed Hadi. The move came a day after the U.N. Security Council imposed sanctions on Saleh and two Yemeni Shi'ite Muslim leaders for threatening Yemen's peace and stability.
Also Saturday, al-Qaida's Yemen branch, al-Qaida in the Arabian Peninsula, said it tried to assassinate the U.S. ambassador to Yemen, Matthew Tueller.
The group said on its Twitter account that it planted two bombs on Thursday intended to killed the ambassador but that they were discovered right before they were due to explode.
The claim could not be immediately verified.
The U.S.-sponsored sanctions include a worldwide travel ban and a freezing of foreign assets.
The council agreed Mr. Saleh worked with the Shi'ite rebels, known as Houthis, in undermining efforts by the new president Rabbo Mansour Hadi to establish stability and democracy.
Also Friday, Yemen announced the formation of a new Cabinet, a key demand of the Houthis who threatened a revolution if no government was named.
Yemen's political factions signed a deal last week asking President Hadi and Prime Minister Khaled Bahah to put together a politically neutral government committed to human rights.
Houthi rebels had given Hadi an ultimatum to form a new government by next week or face what they called "all revolutionary options."
Yemen has been in political upheaval since Saleh was forced to step down in 2012 following mass street protests against his rule.